Merida, Mexico December 2012 We took a two week trip over Christmas holidays to Merida, located in the Yucatan. We had briefly visited Merida several years ago, and we wanted to spend some more time there. The city has heavy Mayan, French, British and to a lesser extent Dutch influences. Merida has the highest percentage of indigenous persons of any large city in Mexico with approximately 60% of all inhabitants being of the Maya ethnicity. The city's historic district is filled with Spanish colonial homes painted in lovely colors, most built at the turn of the century but some are older. Many of the homes have been restored; others are not. The city has strict regulations on renovations...the facade and first two rooms may be restored but their style and footprint must remain the same. They want to maintain the city's original look, and it is charming.
We loved the beautiful courtyards inside many buildings.
It was a great time to visit Merida; the city was decorated for Christmas and the mood was festive.
We visited the city's folk museum, which displayed beautiful art and Yucatan huipil traditional dress throughout the years.
Our favorite outdoor restaurant was at the gorgeous Mansion hotel.
The Paseo de Montejo is a boulevard in Merida where many mansions were built at the turn of the century.
Every evening, there's always something happening in one park or another...we saw beautiful Mexican dancers "ballet folklorico" style, big band swing dancing, cumbia and salsa dancing, comedians and plays in the parks. Older couples come out to demonstrate their dancing skills, and it's a delight to watch. Merida is one of Mexico's safest cities, and everyone is out and about enjoying the activities each evening.
Mayan mother, baby and daughter selling shawls in the park square; market in Merida.....
We visited the Mayan ruins of Chichen Itza (c. 600-900 AD), one of the largest Maya sites and has about 1.2 million visitors a year. We arrived early before the crowds, and we enjoyed exploring and being amazed by the architecture. It's impossible to capture this extensive site with a camera.
On the drive back to Merida, we stopped at the lovely town of Izamal, where most of the buildings are painted egg yolk yellow in color. Very pretty! Pope John Paul II visited this town in 1993, and there is a statue of him at the church. We had lunch at the wonderful Kinich restaurant.
We had no idea that newly elected President Nieto and his wife were in Merida to celebrate the end of the Mayan calendar on December 21. As we walked out of the Mansion restaurant on December 21, I was able walk up to the barrier on the street and shake his hand as he walked by. We were surprised by the lack of crowds and how easy it was to be so close, but then again we heard he is not very popular among many people.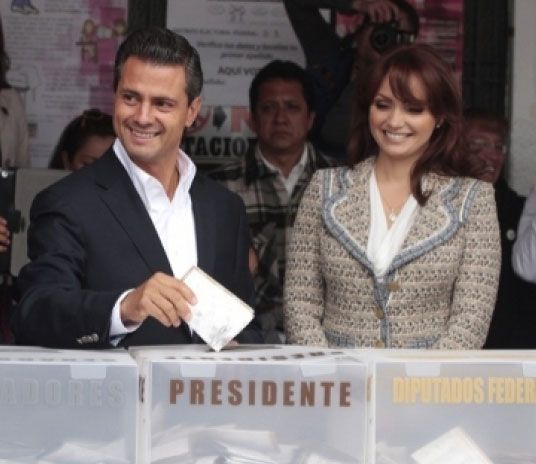 We went to Chunkanan, famous for its cenote (sinkhole swimming hole) trips. An antique wooden cart is pulled by a horse on train tracks built long ago. These small-gauge railroad racks were once used to transport harvested agave to make hennequen (aka sisal) used for rope and twine. We travel through sisal plantations of the Yucatan to visit three refreshing cenotes which you must climb down into (there are ladders). Since there was only one track coming and going, the driver of the cart had to stop and take the cart off the track many times to let an oncoming cart go by. The cenotes were clear and beautiful....what fun we had!
The three cenotes....
Afterward, we went to visit Hacienda Ochil for a wonderful lunch. The hacienda is semi-restored and has a great restaurant. Besides the restaurant, there's a cute museum, a cenote, outdoor theatre, remnants of the former sisal plantation equipment and a gift shop. It's lovely.
The hacienda grounds with smoke stack used in hennequen (sisal) production:
We visited the port town of Progresso and had a good seafood meal (and margaritas of course). Cruise ships arrive here for tourists explore the Yucatan. Pat took a photo of a school named "Carlos Marx"; he got a kick out of the name (any reference to Karl Marx?)
We drove to Campeche, a small and delightful coastal city. There's a wall around the small city center. The city was fortified by the Spanish beginning in the 1600's to protect it from pirate attacks. The city is so neat and tidy and filled with delightful stores, restaurants and homes. Today, there are some beautiful sculptures by Jorge Marin in the pedestrian street.
We visited Hacienda Puerta Campeche, a lovely restored hacienda, now a five star hotel...the pool built among the ruins was stunning....
Campeche church wedding:
We thoroughly loved our visit to Merida and the Yucatan; we will be back!